JBPHH Fitness Center
JBPHH Fitness Center is open under the following conditions due to COVID-19 precautionary measures
Hours of Operation
Mon - Fri: 5 a.m. to 8:30 p.m.
Sat - Sun: 7 a.m. to 5 p.m.
Center will close at the following times for deep cleaning:
Mon - Fri: 9 to 10 a.m. and 2 to 3 p.m.
Sat/Sun: 11 a.m. to 12 p.m.
Non-active duty patrons have access Monday-Friday from 8 a.m. to 8:30 p.m. and Saturday-Sunday 7 a.m. to 5 p.m. Active duty have priority status during these hours. Limited patron count remains in effect.
Limited access: Patrons swap out every hour; active duty only with limited exceptions listed.
No towel service, sports equip or accessory check out
Bring your own towel and be dressed for workout
Basketball and Racquetball courts closed
Limited Free Weights, reduced number of cardio pieces open to allow social distance.
No Personal Training or Massage services, saunas remain closed
No command PT/FEP sessions
This facility features cutting edge technology that makes it one of the best fitness centers in the service. With energy-efficient lighting and recycled materials used to build parts at this facility, MWR hopes to perpetuate efforts for healthy living.
Features:
62,413 square feet
Multi-station rig for functional exercise and weight lifting
Large gymnasium
Cardio area
Two state-of-the-art classrooms
Two large group exercise rooms
Two (2) Indoor Basketball courts
Two Glass Racquetball courts (Wallyball available)
TRX S-Frame
Indoor Volleyball court available
State-of-the-art equipment-selectorized and free-weights available
Full Dumbbell and Barbell selection
Showers available, daily use lockers, and rental lockers available
Olympic lifting areas, ample squat and Free weight machines
NOFFS kits available
Group Exercise classes
Martial Arts Room
Towel Service
Personal training services
Services Offered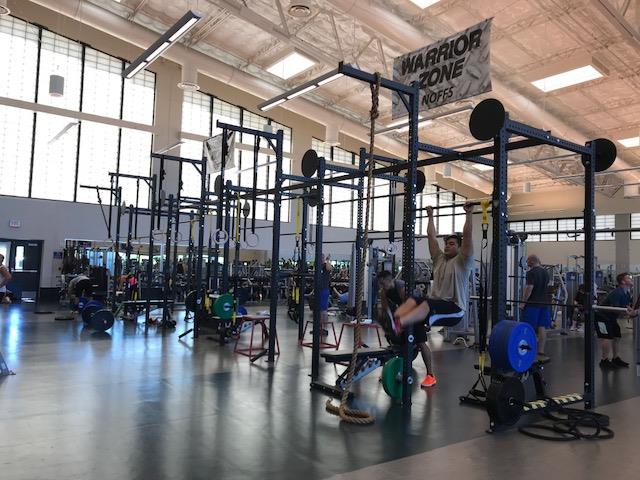 NEW Multi-station Rig
Brand new, state-of-the-art equipment for traditional weight lifting and functional training. Multiple exercise stations with 76 attachments to perform over 100 different exercises, including pull-ups, deadlifts, overhead presses, TRX, wall ball tosses, dips and rope climbing.
A complete full-body workout in one space, without the need to move from one end of the gym to another. The attachments can be easily added and removed, allowing everybody to use it for their specific exercise needs.
Anybody over 16 years can use this equipment. The fitness specialists and staff members can provide assistance as well as safety orientation upon request.
EQUIPMENT ORIENTATION
The weight room and the cardio area
FREE
Eligible for fitness center patrons ages 15+.
Learn safety and proper use of exercise equipment in this 30 minute orientation. To sign up or for more info, call 471-2019.