ROCK THE TROOPS
Rock The Troops, a grand scale music and entertainment event, will rock the crowds at Joint Base Pearl Harbor-Hickam on Saturday, Oct. 22 at 5:30 p.m. at the Hickam flight line. Gates will open at 3 p.m. Actor Dwayne Johnson will host the event, which will feature performances by stars in music, film, and comedy:
Rock The Troops will be filmed by Spike TV and air on Spike at a later date.
The event is free and open to military and DoD ID cardholders (military, dependents, DoD civilians, and retirees). Outside guests of DoD ID cardholders are REQUIRED to have a "Rock the Troops" special event pass (see instructions below). All gates to JBPHH will be at 100 percent ID check on concert day. Guests in the vehicle must have a valid military or DoD ID card or a "Rock The Troops" special event pass to gain entry on base to the concert.
As an option, Military personnel who attend in uniform will have special access to the front of the stage. The front stage area, however, is standing room only and limited to only those in uniform (i.e. Guests, spouses and relatives are not permitted in the area, even in tandem). As a special note: Mr. Johnson mentioned "fatigues" in one of his social media posts, but in fact means "uniforms." However, given that this event happens on a military installation, all applicable uniforms can be worn.
No tickets will be issued for the event. There are no age restrictions, but expect a PG-13 show. Food and drinks will be available for purchase. Sales will be cash only and ATM access will be limited. Guests may bring outside chairs and mats at their leisure.
No formal backstage passes or "meet and greet" passes will be available.
(See guest instructions below)
Instructions for Sponsoring Guests for this event
The event is open to military and DoD ID cardholders, to include military, military family members, DoD civilians, and retirees. Rapid Gate credentials are not authorized DoD ID cards and will not be accepted for concert access. Sponsored guests of DoD ID cardholders must have a valid "Rock The Troops" special event pass to be shown at the gate for base access.
[DUE TO THE OVERWHELMING REQUESTS, EFFECTIVE IMMEDIATELY, WE WILL NO LONGER ACCEPT EMAIL OR WALK-IN REQUESTS FOR ROCK THE TROOPS SPECIAL EVENT PASSES. ]
For questions regarding forms that were already submitted, contact the Nimitz Pass & ID Office Special Events main line at (808) 449-0870 or call the Pass & ID Office main line at (808) 449-0865.
NOTE: It is a violation of Joint Ethics Regulations and base access procedures to sponsor guests for compensation. Your official position shall not be used for personal gain. Sponsors in violation of procedures will be subject to investigation and loss of base access privileges to the event. In addition, unauthorized duplication of visitor passes will result in loss of sponsorship privileges and possible further actions.
Security Restrictions
Strict security measures will be in place. The following restrictions apply:
NO pets, coolers, tents, outside food and beverages (besides water), glass bottles, backpacks, camera bags, or bags larger than a clutch.
Acceptable items: Small diaper bags (please bring only baby essential items), strollers, purses, umbrellas, mats, lawn chairs, cell phones, cameras (no camera bags or tripods/monopods), water bottles. All items carried in are subject to search/inspection. As a courtesy to others, please bring only essential items.
NO overnight parking or camping will be allowed at or near the mass parking lot.
Entry
Drivers may enter through any of the gates to the main base at Joint Base Pearl Harbor-Hickam— O'Malley, Nimitz, Makalapa and Kuntz gates. At O'Malley Gate, concert traffic will be directed to the left lanes straight from the gate to concert parking. Base traffic will be the two lanes to the right as they approach O'Malley gate. Handicapped parking will be available with proper placard. Access to handicapped area parking via right lanes at O'Malley gate ONLY (click here or see downloads for handicapped parking route)
All gates will be at 100 percent ID check. Guests in the vehicle must have a valid military or DoD ID card or a "Rock The Troops" special event pass to gain entry on base to the concert. Vehicles will be turned around if all occupants do not have valid credentials or passes to enter. No pedestrian or bicycle entry is allowed through O'Malley Gate.
O'Malley Blvd in front of the flight line and roads in the vicinity will be closed to through traffic on Oct. 22 from 10 a.m. to 11 p.m.
Note: Borchers gate, Ford Island gate and all Annexes will be at normal operations.
(Click on maps to download)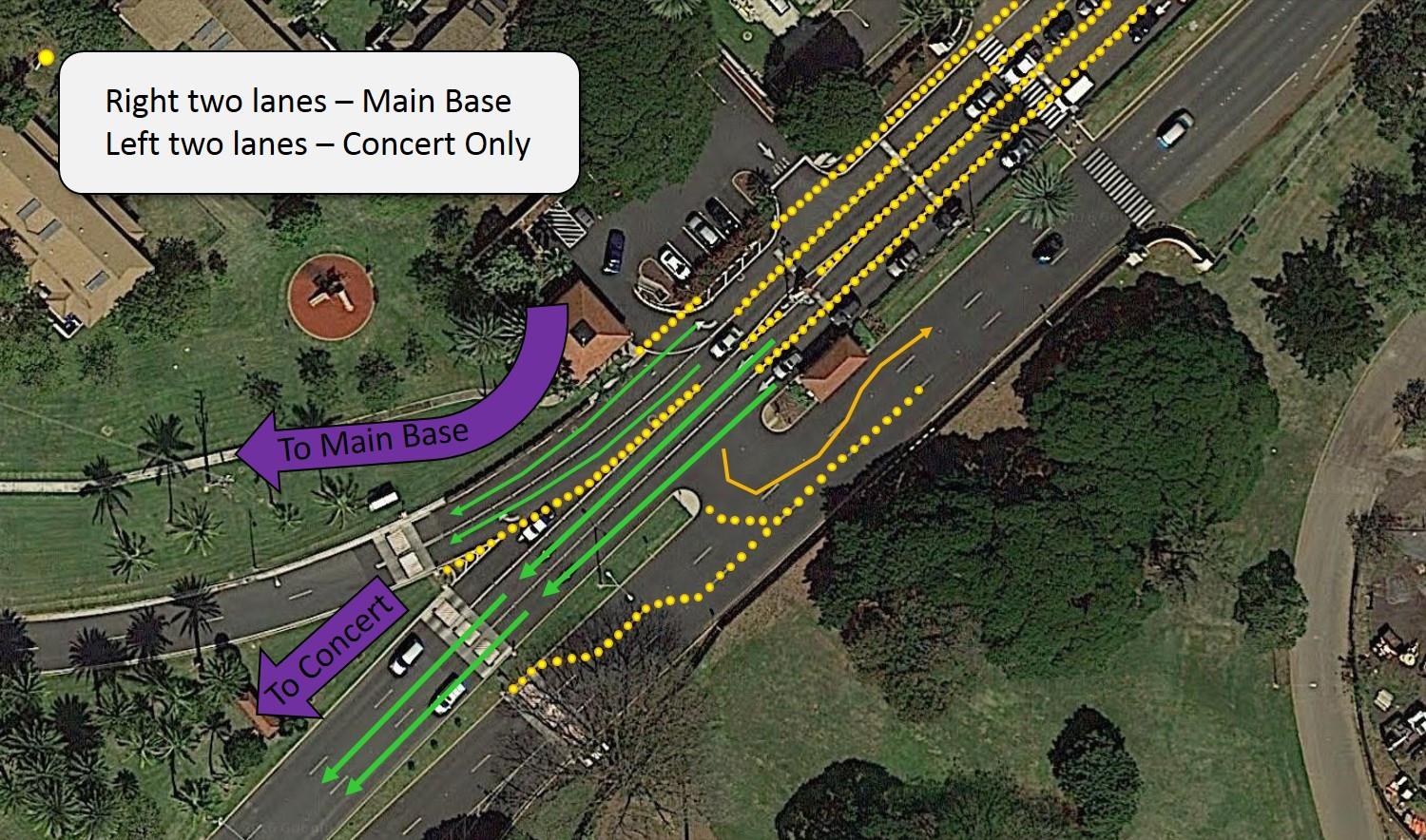 Parking & Concert Entrance
Parking will be available in and around the flight line. (Please see maps downloads on this page) Parking attendants will be on hand to direct traffic. In addition, designated parking areas will provide shuttle buses to transport guests from the parking areas to the concert. Checkpoints will be available in the parking areas prior to boarding the buses, as well as at the main entrance to the concert, via O'Malley Blvd. All items carried are subject to search.
MASS PARKING AREA OPENS AT 2PM.
BUS SHUTTLE SERVICE BEGINS AT 3PM AND WILL RUN CONTINUOUSLY THROUGHT THE EVENING. (see map)
The main entrance to the concert will be through the DV gate. There will be several entry areas set up along O'Malley Blvd leading to the DV gate to help streamline searching of personnel and bags.
A second entrance will be for people that choose to park in the designated mass parking area. Checkpoint will be at the time they get on the bus and then will be transported to the event area.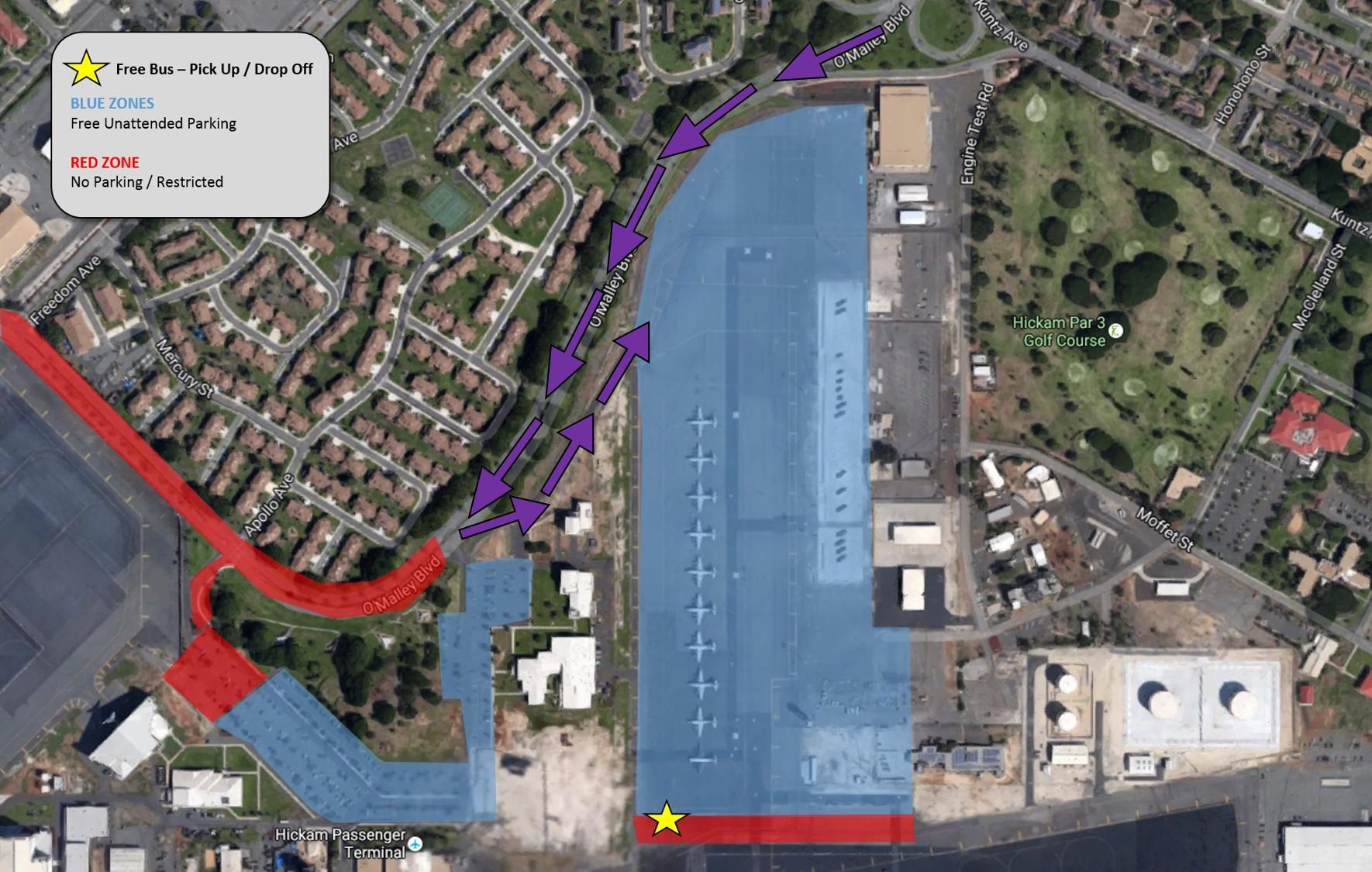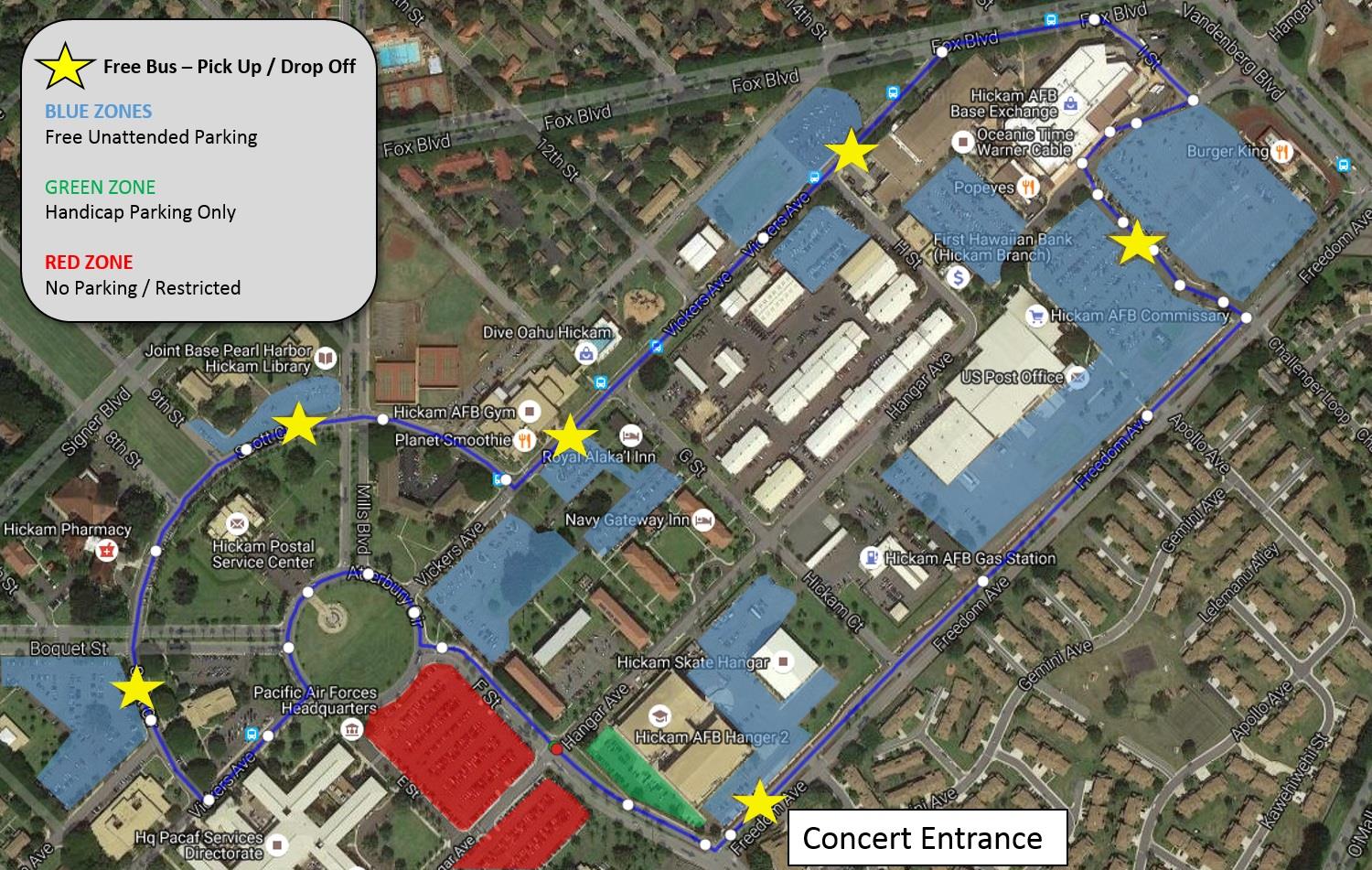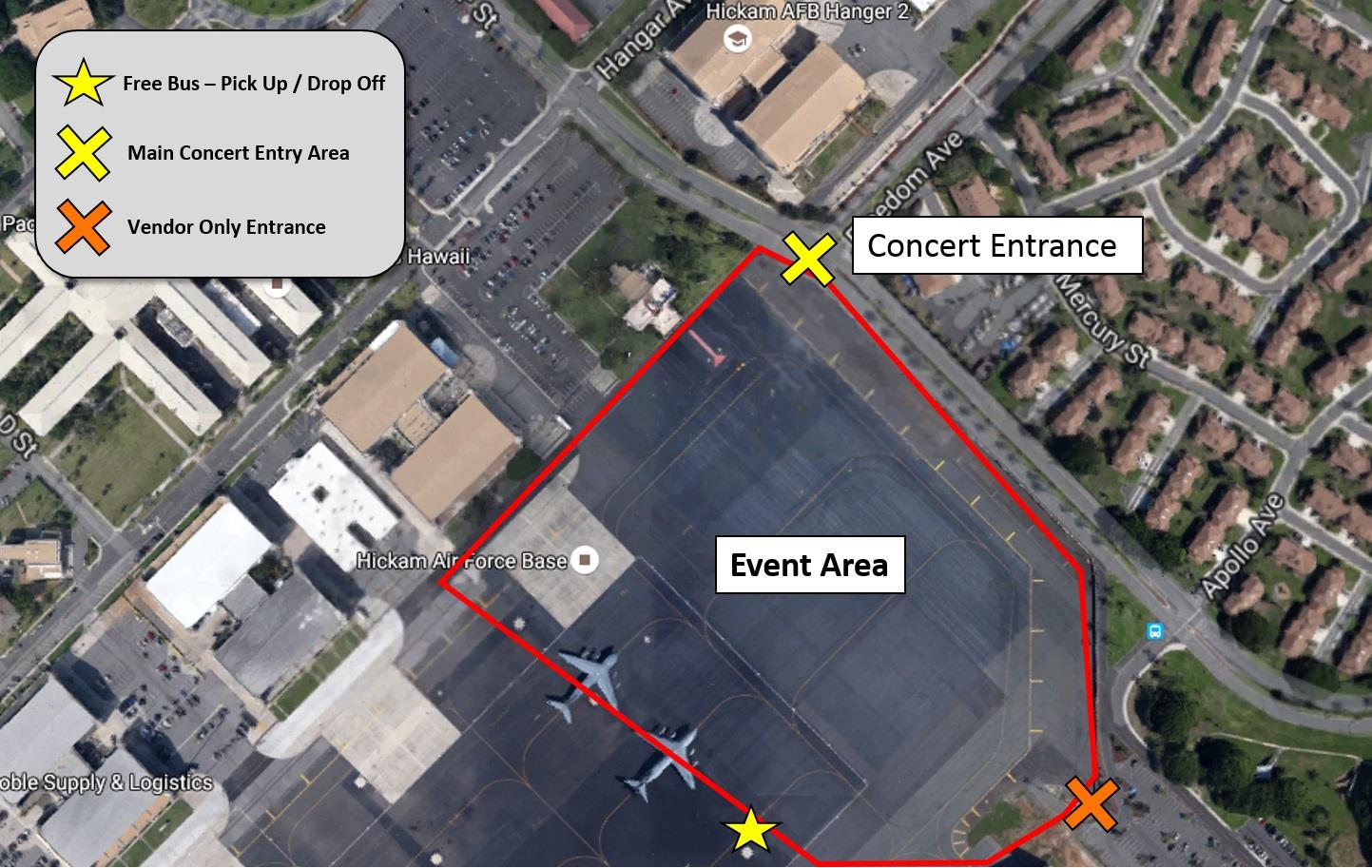 Concert Location
It is important to note that the event will be on the flightline which is entirely paved (with no grass or shade areas) so bring a mat and/or small chair at your leisure (with respect to the restrictions listed above).
Food
Food and beverages will be available for purchase. CASH ONLY accepted for all sales -- please be sure to bring cash with you as ATM access may be limited
For more information please contact JBPHH Public Affairs at (808) 473-2926 or (808) 473-2924 (Monday-Friday) or jbphhevents@gmail.com
Rev. 10/14/16 7:55 am